Meet Angela Roest — Award-Winning Chocolatier
A Fresh and Unique Approach to Artisan Chocolate
Angela's chocolate creations are a celebration of local food. Her unique talent for finding perfectly balanced local flavours is guided by the local growing season and what is currently available at its peak of freshness. This approach has inspired some incredibly diverse chocolate creations that have won both Canadian and International awards.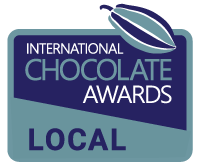 Angela combines unique local ingredients with the finest ethically-sourced chocolate from across the globe. It all started with locally-produced saffron and chocolate (pictured here). This was the 'trigger' for Angela that helped her envision the diverse flavours possible from her local area.
Through a combination of art and science, Angela creates sophisticated new flavour profiles with chocolate. She received her formal training at the world-renowned Chocolate Academy in Montreal and various apprenticeships.  This training integrated with talent and vision have resulted in truly innovative chocolate that will both delight and challenge your taste buds.